United Nations Development Programme (UNDP) - China Hydrogen Energy Industry Conference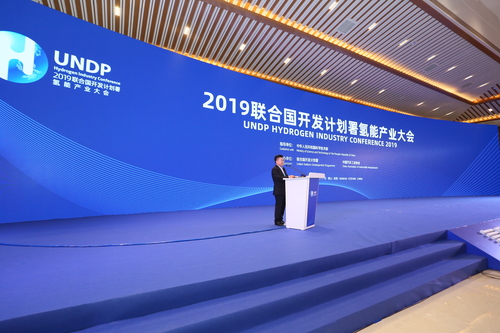 Under the background of the profound adjustment of the world energy pattern, the acceleration of global action to deal with climate change and the strengthening of resource and environment constraints, hydrogen energy has become a strategic engine of major energy transformation in China.

Since the 12th FiveYear Plan, China has closely followed the development of the international hydrogen energy industry, and has successively issued a series of policies and plans, such as the Energy Technology Revolution and Innovation Action Plan: 2016-2030, Outline of the National Strategy of Innovation-driven Development, and 13th-Five Year Development Plan for National Strategic Emerging Industry. Hydrogen energy and fuel cell technology are listed as strategic development directions, which effectively promote the development of hydrogen energy and fuel cell industry in China.
The United Nations Development Programme Hydrogen Energy Industry Conference is a series of activities which has been held for 4 consecutive sessions in Nanhai District. Nanhai is committed to building the top international dialogue and exchange platform and international hydrogen energy exhibition brand, which has attracted certain response and attention in the domestic and foreign industries.
In 2020, the United Nations Development Programme will continue to work with Nanhai and is expected to hold the 2020 United Nations Development Programme Hydrogen Industry Conference in Qiaoshan Cultural Center in Nanhai, Foshan from October 18 to 22,2020.
The conference will include a number of professional forums on hydrogen energy and fuel cell and the 4th International Hydrogen Energy& Fuel Cell Technology and Product Expo Foshan·China. Activities will use UNDP global resources to achieve a wider exchange of international partners, attract more global attention and focus, help accelerate the integration of industrial resources, and promote the "Belt and Road" Initiative hydrogen energy industry cooperation joint.