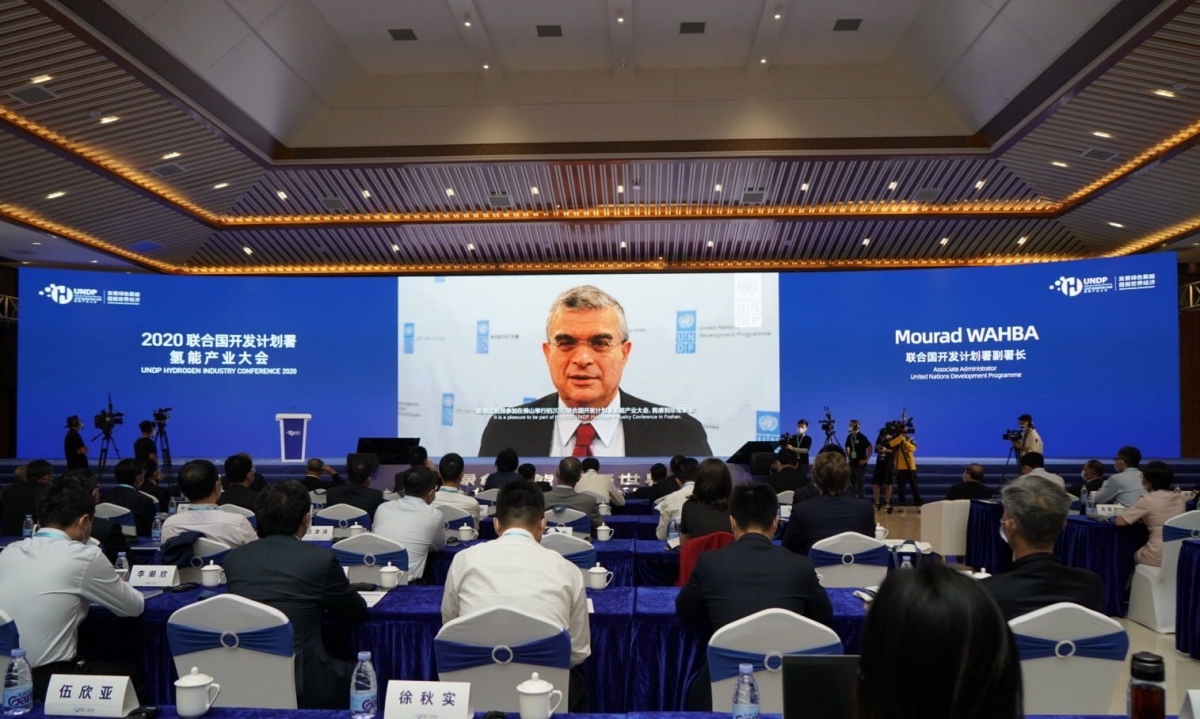 Foshan, October 19 – Jointly hosted under the guidance of the United Nations Development Programme (UNDP) and the Ministry of Science and Technology, the 2020 UNDP Hydrogen Industry Conference was held in the Nanhai District of Foshan to strengthen international cooperation on hydrogen energy. Hydrogen, if produced with renewable energy, is key for a green recovery and the transition to a low-carbon economy.
Under the theme of "Green Hydrogen, Green Recovery," the conference was supported by the Foshan Municipal People's Government, the Foshan Nanhai District People's Government and the China Automotive Technology Research Center Co., Ltd.
"Countries now have an opportunity to either invest in returning to yesterday's economy, or to invest into tomorrow's economy, and that means turning the page on the coal age, the oil age, on all fossil fuels," said Mourad Wahba, UNDP Associate Administrator in a video address. "A key element of this transition will be to further develop the hydrogen and fuel cell industries - to help decarbonize our economies and to propel a new green prosperous economy."
Hydrogen energy and fuel cell technology have great potential to help reach carbon-neutrality faster. As a low-carbon and clean energy carrier, hydrogen can play a significant role for China to meet its carbon neutral target by 2060. Toward this end, the Chinese government is expected to set out a more detailed road map on renewable energy development in its 14th five-year-plan early next year.
"There is now a window of opportunity. Fuel cell vehicles and hydrogen technology play a growing role in the green path forward. The costs of hydrogen production and infrastructure are expected to drop by half by 2030, making it much more competitive," said Beate Trankmann, UNDP Resident Representative in China. "As a result, clean hydrogen is set to meet 24 percent of global energy demand by 2050, powering a quarter of the world's vehicles and creating potentially 30 million jobs."
The conference includes thematic forums to conduct in-depth discussions on fuel cell technology, hydrogen energy technology, policy standards, hydrogen safety, and hydrogen energy cooperation. Among them, the China-Japan-Korea Hydrogen Energy Forum aims to build a platform for dialogue and cooperation between China, Japan and South Korea in the field of hydrogen energy, promote the establishment of regional rules and the improvement of standards, promote the international integration of technology and markets.
"This is a grand event in the field of international hydrogen energy, especially when the pandemic has not yet dissipated and the global economy has fallen into a severe recession," said Wan Gang, Chairman of the China Association for Science and Technology. "This conference held in China aims to 'Develop green hydrogen energy to boost the world.'"
During the Conference, the 4th China International Hydrogen Energy and Fuel Cell Technology and Products Exhibition (CHFE2020) was also held. Nearly 300 exhibiting companies demonstrated advanced technologies and achievements in hydrogen energy infrastructure, hydrogen production, storage, transportation, hydrogen utilization, fuel cells, and fuel cell vehicle manufacturing.
"Speeding up the development of the hydrogen energy industry is a strategic choice for China to cope with climate change, ensure energy security and achieve sustainable development," said Zhu Wei, the Mayor of Foshan. "We sincerely hope that at this industry conference, we can strengthen exchanges and dialogue, and jointly contribute to the development of hydrogen energy in Foshan."
UNDP has been supporting the demonstration and commercialization of hydrogen and fuel cell vehicles (FCV) in China over the past 17 years, with support from the Global Environment Facility (GEF), and in partnership with China's Ministry of Science and Technology. UNDP scaled its hydrogen economy pilot projects into 7 demonstration cities to help achieve the Sustainable Development Goals through innovation on governance and technology. There are now more than 7,000 fuel cell vehicles in more than 30 cities in China. UNDP is also supporting the use of hydrogen for combined heat and power (CHP) to realize its potential of reducing the portion of fossil fuels in the country's energy mix.